By the bioMérieux Connection Editors
Each year, one in six Americans gets sick from consuming contaminated food or beverages, and the medical and industry costs of these illnesses exceed $15.5 billion. A significant cause of foodborne illness is contaminated fresh produce, which leads to nearly half of cases. Testing produce for viruses can help prevent outbreaks or determine the cause of an outbreak after it occurs.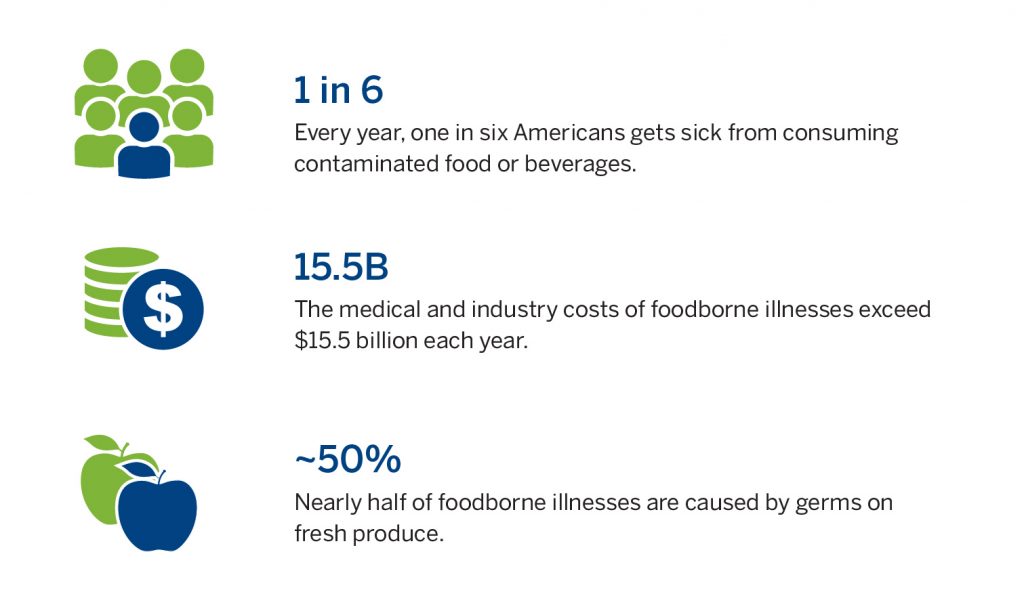 In 2011, the Food Safety Modernization Act highlighted the importance of addressing food safety as a Centers for Disease Control and Prevention (CDC) Winnable Battle. The CDC states that although foodborne illness is a common and costly public health problem, preventative and effective strategies exist to decrease the foodborne illness public health burden.
"Food Safety is continuously evolving. Awareness and adoptability are key to strengthen industries' assurance to product safety and consumer health," says Maria McIntyre, Produce Safety Advocate at bioMérieux. One method used to prevent foodborne illness is periodically examining samples of products for contamination, which can include viral testing. Viral testing is important, as the Norovirus virus is the leading cause of foodborne illness in the United States.
Viral Testing and Microbiological Surveillance Sampling
Viral testing completed by the U.S. Food and Drug Administration (FDA) is often done during Microbiological Surveillance Sampling. The method of sampling is a part of the prevention-based approach taken by the FDA to keep contaminated food from reaching consumers. During the process, the FDA takes samples at random of a product of their choosing, and tests them for contamination. Currently, the FDA is in the middle of a Microbiological Surveillance Sampling of frozen berries. The sampling is completing viral testing for both Norovirus and Hepatitis A. Per protocol, the FDA may oversee a recall, issue public warnings, and/or place a firm on import alert if a sample is contaminated. This puts producers and retailers at risk of recalls and losses for unknowingly handling contaminated goods.
The Impact of Food Recalls
Recalls have a detrimental effect to the food industry. Although they are a major public health issue, they can also cause significant economic issues. Food recalls lead to brand damage, lost sales and direct costs, such as the price of consumer/retailer notification and transportation of contaminated goods. These direct costs often equal more than 10% of the good's retail price.
Brand damage may be the most significant effect of recalls. According to a survey done by Harris Interactive, in 2014, 16% of consumers would never again purchase a product that had been recalled. Viral testing can help prevent product contamination, recalls, and brand damage.
Challenges of the "Winnable Battle"
Accepting food safety as a winnable battle comes with challenges. Food production is continuously evolving, and so is the battle with antimicrobial resistance and new, emerging pathogens. The CDC must also combat unexpected sources of foodborne illness, such as frozen produce. Despite these challenges, methods to test for viruses and determine where exact strains came from also continue to evolve and improve. To learn more about the viral testing and the "Winnable Battle" against food safety visit the CDC's Winnable Battles – Food Safety page.
---
Opinions expressed in this article are not necessarily those of bioMérieux, Inc.