By the bioMérieux Connection Editors
Each year in the United States, over 1,700,000 people get sepsis. Of those, approximately 270,000 lose their lives. Sepsis, a serious medical emergency, is the body's extreme immune response to an infection. Without immediate medical treatment, sepsis leads to tissue damage, organ failure, and death.
One way we can fight sepsis is by bringing education and awareness to the community. The infographic series below, compiled with information from the CDC and Sepsis Alliance, provides facts and figures about sepsis in the United States, as well as causes, risk factors, and the symptoms of sepsis and post-sepsis syndrome (PSS). Whether you are a patient or a healthcare provider, these infographics can help you spread awareness and information about sepsis. They are formatted at 8.5×11 for easy printing on a home or office printer, or you can share them online!
Download the Sepsis Infographic Series
What Causes Sepsis?
Any type of infection can lead to sepsis, and more than 70% of infections are resistant to at least one antibiotic. Infections that most frequently lead to sepsis occur in the lungs (pneumonia), skin, gastrointestinal tract, and urinary tract. Common bacterial causes include Staphylococcus aureus (staph), E. coli, and Streptococci. Although less common, sepsis can also be triggered by viral or fungal infections such as SARS-CoV-2, influenza, candida, aspergillus, and others.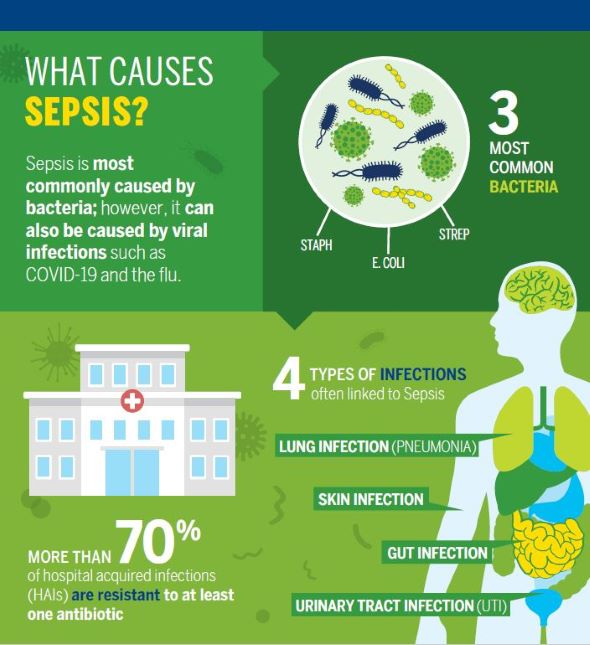 Who Is At Risk and What Are the Symptoms?
Because anyone can get an infection, anyone can be impacted by sepsis. Individuals with underlying health conditions, adults over age 65, children younger than 1 year, people with weakened immune systems, people with recent severe illness or hospitalization, and sepsis survivors are at higher risk of developing an infection that could lead to sepsis.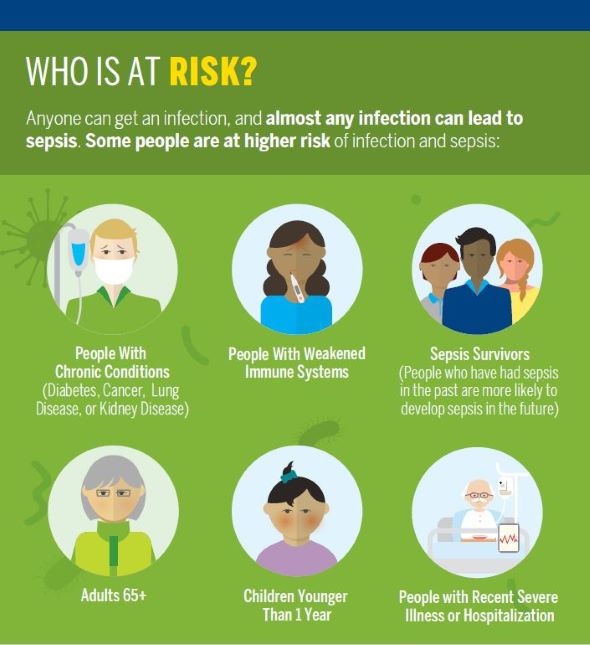 Time is of the essence in the diagnosis and treatment of sepsis, and knowing the signs can help save lives. Identifiable symptoms may include confusion/disorientation, fever, shivering, or feeling very cold, shortness of breath, high heart rate or low blood pressure, pain/discomfort, and feeling clammy or sweaty.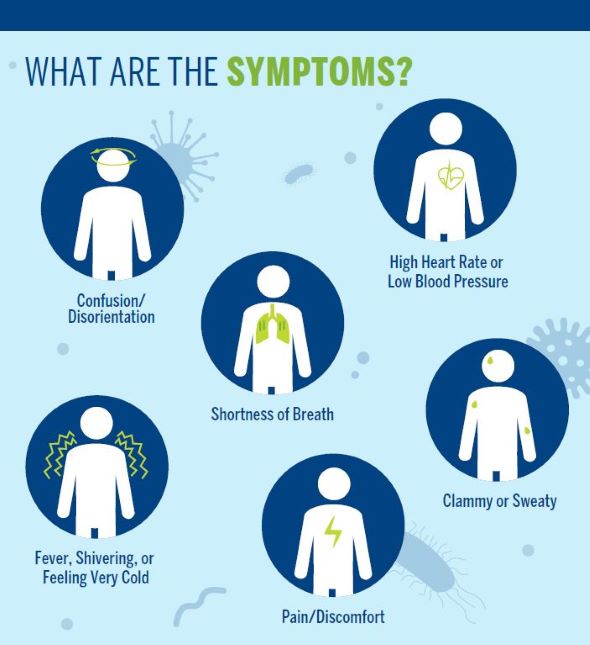 What Are The Long-Term Effects?
For many sepsis survivors, the fight does not end with hospital discharge. Post-sepsis syndrome (PSS) is the term used to describe the long-term physical and psychological symptoms that affect up to 50% of sepsis survivors.

Examples of PSS symptoms may could include the following: difficulty sleeping or staying asleep, fatigue, lethargy, repeat infections, poor appetite, mood swings, memory loss or post-traumatic stress disorder (PTSD).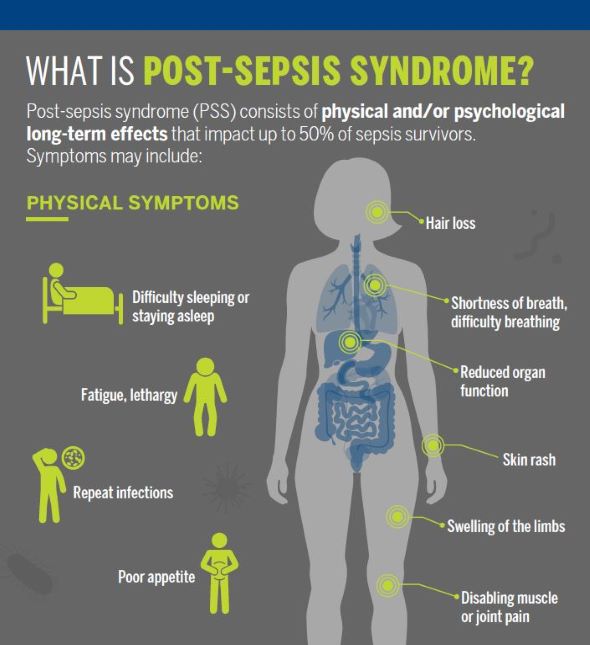 What To Do If You Suspect Sepsis
Sepsis is a life-threatening medical emergency. According to the CDC, if you suspect sepsis be sure to ACT FAST and seek medical attention immediately. Being aware of sepsis and knowing the symptoms can help save lives. With sepsis – every minute counts.
Opinions expressed in this article are not necessarily those of bioMérieux, Inc.