By the bioMérieux Connection Editors
With vaccine hesitancy recently cited by the World Health Organization as one of the leading threats to global health, it's hard to overemphasize the benefits of preventative vaccines, especially among children. A recent study published in Clinical Infectious Diseases estimates that during last year's influenza season alone, flu vaccines prevented 8,000 total flu deaths and 40% of flu deaths in children under age 5.
According to Seth Toback, FAAP, MD, Vice President of Medical Affairs for bioMérieux, the Clinical Infectious Diseases analysis points out a few important points about influenza vaccination. "First, in a more severe season like the 2017-18 season, the flu vaccine is even more important due to the higher burden of disease," Dr. Toback said. "Yet even in milder seasons, such as the current influenza season, the flu vaccine prevents significant morbidity. Also, despite the variable effectiveness of the flu vaccine, which according to the CDC, can range between 40% and 60%, it is important to make a habit of receiving an annual influenza vaccine as the severity of each flu season is difficult to predict."
The Clinical Infectious Diseases study found that flu shots prevented 7.1 million illnesses in the 2017-2018 season. That's about equal to the entire population of New York City. The CDC notes that the 2017-2018 flu season was severe for people of all ages, making vaccination benefits all the more salient. Getting an annual flu vaccine helps protect you and those you love against influenza and its complications, such as pneumonia.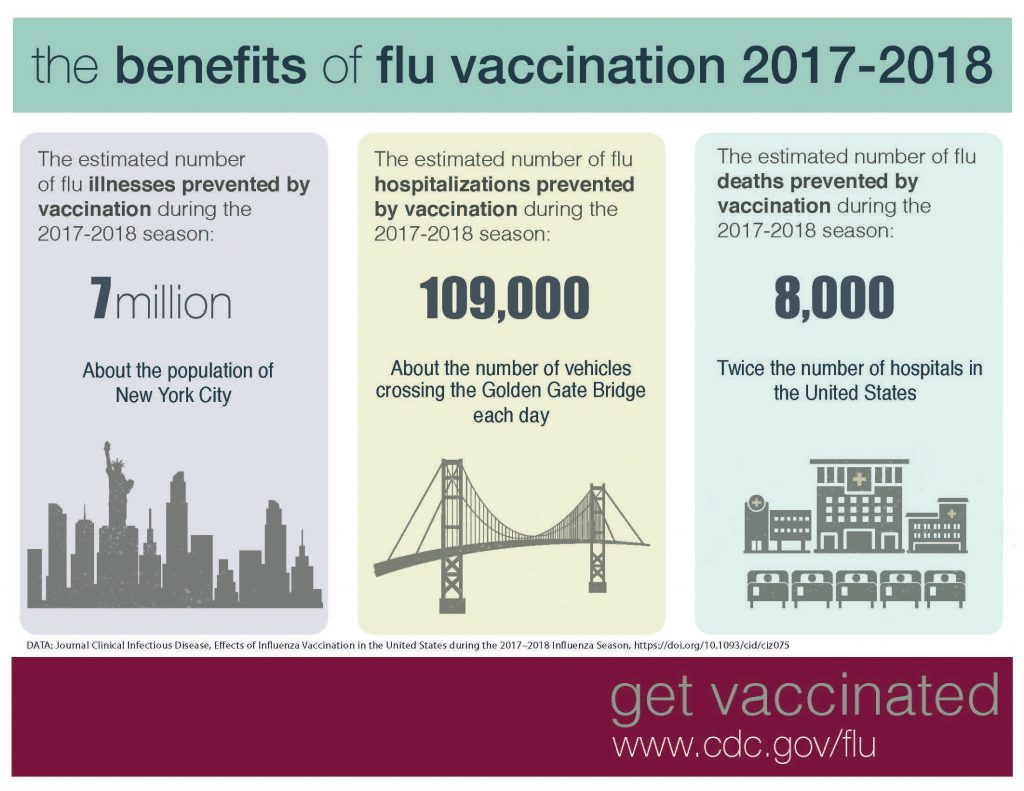 Adding together totals from the last eight flu seasons (2010-2018), flu vaccinations have prevented an estimated total of 38.41 million illnesses and more than half a million (570,900) hospitalizations.
It's important to estimate the annual burden of flu and the burden averted through vaccination, according to the CDC: "These estimates underscore the important benefits provided by influenza vaccination, which has been recommended annually in the United States for all persons 6 months and older since 2010. In addition to quantifying the benefits of influenza vaccination each season, these estimates also highlight areas where improvements in vaccine uptake and vaccine effectiveness could deliver even greater benefits to the public's health."
Dr. Toback stressed that vaccination is the cornerstone of influenza preparedness for you and your family, along with heightened awareness of symptoms and good hygiene.
"Influenza vaccination, along with good hygiene practices, such as washing your hands and avoiding contact with sick people, is the best way to prevent influenza and its compilations," said Dr. Toback. "Anyone concerned that they may have contracted influenza should seek medical care and proper testing before antiviral medications are prescribed and antibacterial medications are withheld."
---
Opinions expressed in this article are not necessarily those of bioMérieux, Inc.