By John Hurst, PharmD, BCPS-AQ ID, Senior Director, Antimicrobial Stewardship at bioMérieux and Mauricio Berdugo, MD, MPH, Director, Global Scientific & Medical Affairs at bioMérieux
Download the Complete "Need for Speed" Infographic
Reduction in sepsis mortality is directly dependent on early identification and rapid initiation of appropriate antimicrobial therapy. Fast and accurate diagnosis may also shorten the length of a hospital stay and potentially help reduce the emergence of multidrug-resistant bacteria.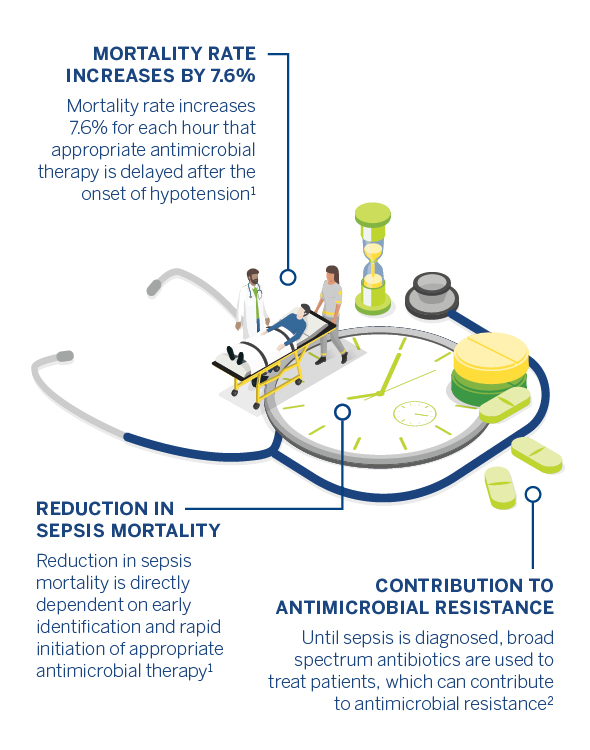 Broad spectrum antibiotics, which are commonly used to treat patients until sepsis is diagnosed, can contribute to antimicrobial resistance (AMR). Because the spread of multidrug-resistant pathogens is occurring faster than the creation of new drugs to fight them, AMR is now one of the world's biggest healthcare threats. The World Health Organization states that "without effective antimicrobials for prevention and treatment of infections, medical procedures such as organ transplantation, cancer chemotherapy, diabetes management, and major surgery become very high risk". Efficient sepsis diagnosis and treatment is crucial in the fight against AMR.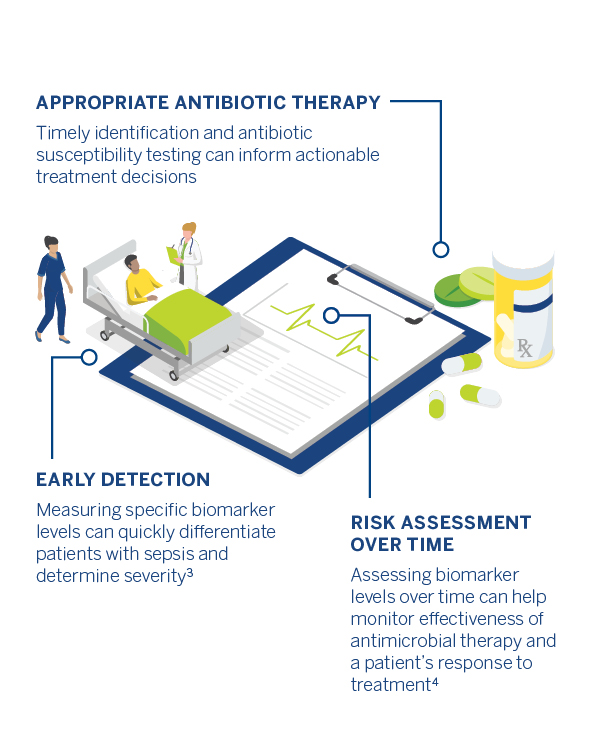 A biomarker objectively measures and evaluates normal biological processes or response to treatment. Biomarkers may also be used to help evaluate a septic patient. For example, the biomarker procalcitonin (PCT) increases rapidly in the presence of a bacterial infection. PCT-guided therapy may help reduce antibiotic exposure without increasing the mortality rate in ICU patient population.
Prompt antimicrobial therapy is crucial in the treatment of sepsis and for saving lives and once the causative pathogen has been identified, antibiotic susceptibility testing can be conducted to determine the appropriate antibiotic therapy.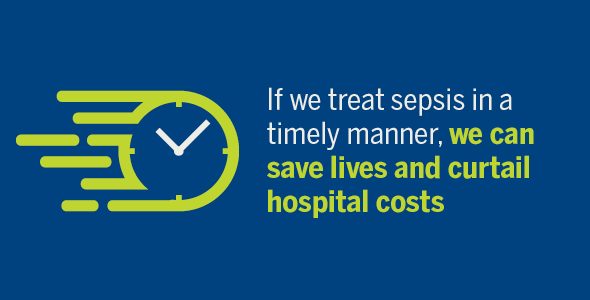 Rapid diagnosis and treatment may save patient lives, but they can also help reduce costs.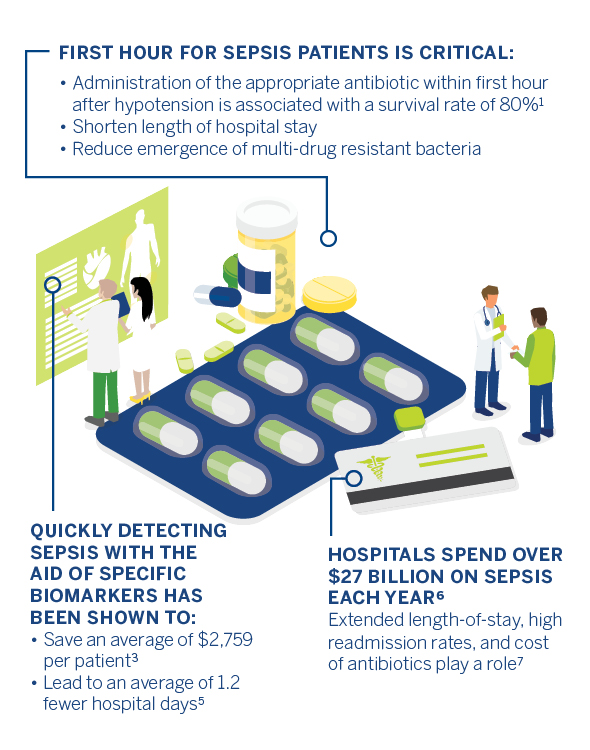 Effective antimicrobial administration within the first hour of documented hypotension is associated with increased survival to hospital discharge in adult patients with septic shock. Mortality rate increases as appropriate treatment is delayed. Rapid biomarker evaluation and antibiotic susceptibility tests allow healthcare teams to administer treatment efficiently. Early identification and swift initiation of treatment may lower sepsis costs and reduce contribution to AMR, but ultimately, they save lives.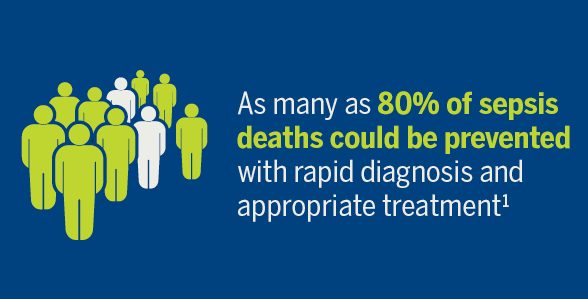 ---
References:
Zanotti-Cavazzoni S. Duration of hypotension before initiation of effective antimicrobial therapy is the critical determinant of survival in human septic shock. Yearbook of Critical Care Medicine. 2007; 2007:187-188. doi:10.1016/s0734-3299(08)70339-3.
Sinha M, Jupe J, Mack H, Coleman TP, Lawrence SM, Fraley SI. Emerging Technologies for Molecular Diagnosis of Sepsis. Clinical Microbiology Reviews. 2018;31(2). doi:10.1128/cmr.00089-17.
Harbarth S, Holeckova K, Froidevaux C, et al. Diagnostic Value of Procalcitonin, Interleukin-6, and Interleukin-8 in Critically Ill Patients Admitted with Suspected Sepsis. American Journal of Respiratory and Critical Care Medicine. 2001;164(3):396-402. doi:10.1164/ajrccm.164.3.2009052.
Soni NJ, Samson DJ, Galaydick JL, et al. Procalcitonin-guided antibiotic therapy: A systematic review and meta-analysis. Journal of Hospital Medicine. 2013;8(9):530-540. doi:10.1002/jhm.2067.
Balk RA, Kadri SS, Cao Z, Robinson SB, Lipkin C, Bozzette SA. Effect of Procalcitonin Testing on Health-care Utilization and Costs in Critically Ill Patients in the United States. Chest. 2017;151(1):23-33. doi:10.1016/j. chest.2016.06.046.
Torio C, Moore B. National Inpatient Hospital Costs: The Most Expensive Conditions by Payer, 2013. HCUP Statistical Brief 204. May 2016. Agency for the Healthcare Research and Quality, Rockville, MD. http://www.hcupus.ahrq.go/reports/statbriefs/sb204-Most-Expensive-Hospital-Conditions.pdf.
Rhee C, Dantes R, Epstein L, et al. Incidence and Trends of Sepsis in US Hospitals Using Clinical vs Claims Data, 2009-2014. JAMA. 2017;318(13):1241. doi:10.1001/jama.13836.
---
Opinions expressed in this article are not necessarily those of bioMérieux, Inc.