By Chris Cook, Director of U.S. Medical Affairs at bioMérieux
Amid the spread of COVID-19, testing for SARS-COV-2, the virus that causes it, is at the forefront of the battle. Patients rely on test results to confirm if they've acquired the coronavirus, and public health entities around globe rely on the data to learn how and where the virus is spreading.
In recent weeks, more tests have become available in the United States, which now has the highest number of COVID-19 cases in the world. Many hospitals throughout the country have set up drive-through testing sites; however, these sites are not ubiquitous, and many patients still must go into a medical facility to be tested.
What Should You Do if You Suspect You Have COVID-19?
First, call your doctor. Depending on your symptoms and the availability of testing centers, your doctor may have you schedule an appointment or provide a referral to a testing location. If you have an in-office appointment, follow your doctor's instructions about how to prepare for the appointment. You may be asked to call ahead so your healthcare provider can protect themselves as well as other patients. When you arrive, you may also be separated from other patients and asked to wear a mask.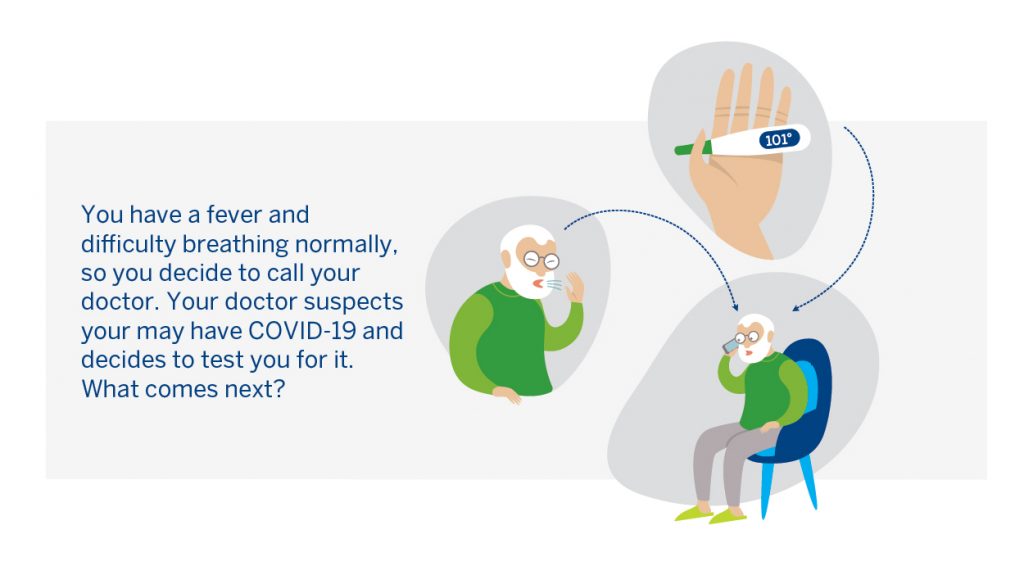 Step 1: Get Tested
What You Can Expect During Testing
At the medical facility or testing center, a medical professional will swab inside your nose to capture a sample containing viruses if they are present. After the swab is removed, it is snapped off at the break line and placed in a sterile vial to be sent to the lab.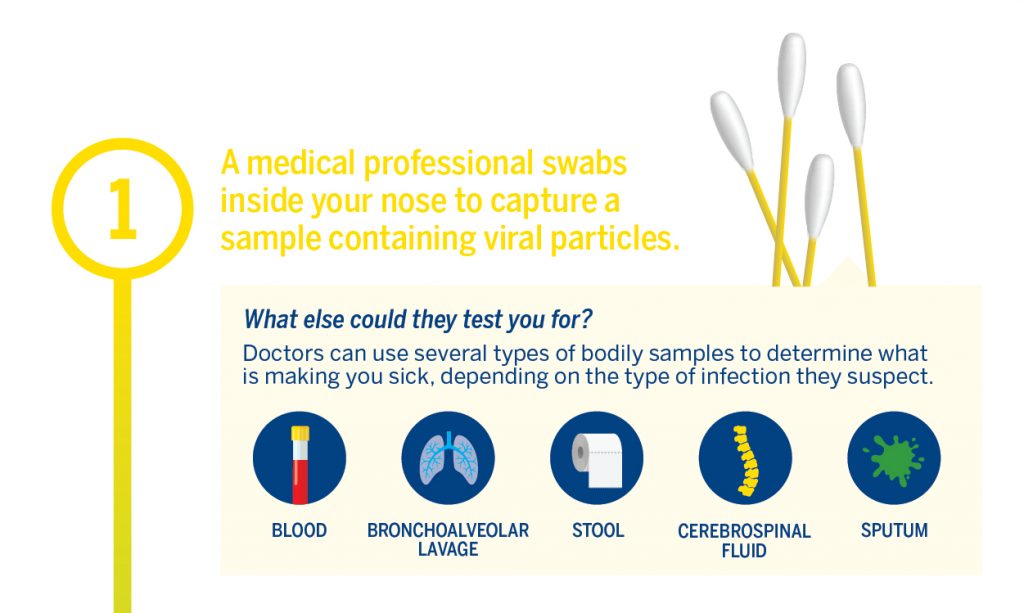 What if the Doctor Suspects an Illness Other than COVID-19?
If your doctor suspects you have something other than COVID-19, there are a number of other tests they can perform. These include blood tests, stool tests, and sputum tests. Each test will be administered differently; however, the laboratory process for molecular tests remains more or less the same.
What Types of Tests Detect COVID-19?
COVID-19 is usually detected with a type of molecular diagnostic test called Real-time Polymerase Chain Reaction (RT-PCR). This type of test is designed to find out if the virus is present by looking for genetic material that is unique to SARS-CoV-2, the virus that causes COVID-19.
How RT-PCR Tests Work
The genetic material of viruses and bacteria is composed of RNA or DNA. SARS-CoV-2 carries its genetic code as RNA. RNA stands for ribonucleic acid and is strung together from molecules called ribonucleotides in a particular order to produce genetic material. DNA stands for deoxyribonucleic acid, and its structure is double-stranded helix, made up of pairs of molecules called nucleotides. DNA and RNA have evolved to work together to make proteins that cells need to survive, so it is possible to copy RNA from DNA and vice versa. RT-PCR tests for COVID-19 take advantage of that ability to detect the SARS-CoV-2 virus's genetic material.
Step 2: Extraction
The next step is the extraction process. Bodily samples are processed in the lab by machines that extract and isolate genetic material to determine which type of virus or bacterium has infected you. The process includes adding different reagents (chemicals) to the sample and repeatedly spinning it in a centrifuge.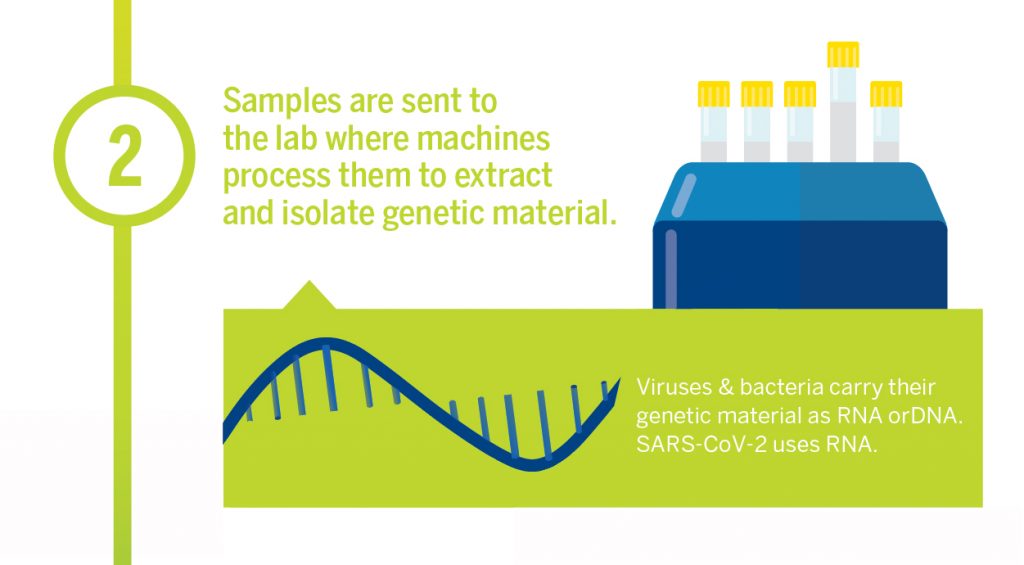 Step 3: Copy DNA from RNA
At the lab, RNA collected from the sample is next combined with the chemical building blocks for DNA, called nucleotides, and a special enzyme that copies the RNA code into DNA. Some viruses and other organisms carry their genetic code as DNA, instead of RNA, so it is not always necessary to copy DNA from RNA. However, for viruses that carry their genetic code as RNA, this sets up the sample for the most important part of the process.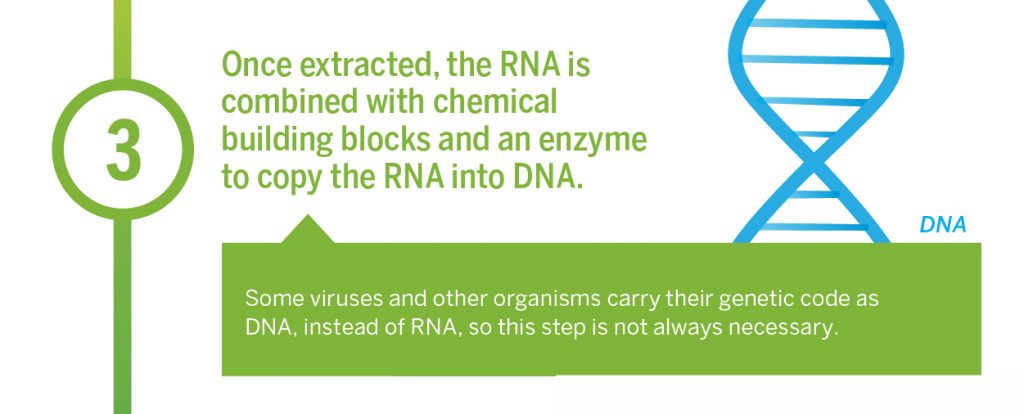 Step 4: DNA Amplification
The new DNA must be amplified (copied) until there is enough to study it. This step is called polymerase chain reaction (PCR). Amplification primers, which are short sequences of DNA unique to a specific virus or other pathogen, are added to the sample along with a special enzyme and other chemicals. During this process, the DNA strands are "unzipped" so that the primers can attempt to match up with the DNA sequences. If the primers don't match up with DNA in the sample, then the DNA can't be replicated.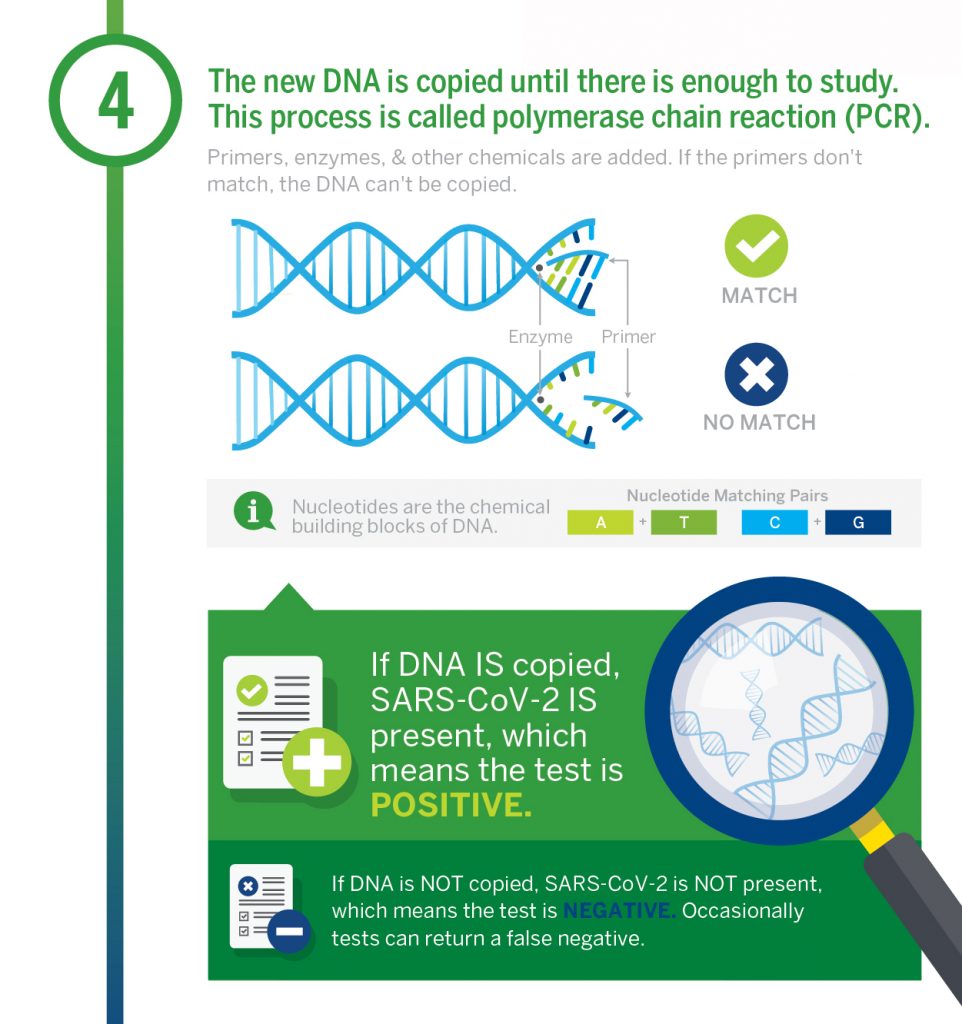 Step 5: Identifying the Result
If there is SARS-CoV-2 in the sample, then the DNA will be replicated, and the test will register a positive result. If there is no SARS-CoV-2 in the sample, then the SARS-CoV-2 primers won't copy any DNA, and the test will register a negative result. Sometimes, a test will return a false negative result. This can happen for a few reasons, including a low-quality sample, or if the virus wasn't present in the nasal cavity, as can happen with patients who are asymptomatic. The results of your test(s) will be communicated to your healthcare provider, who will share them with you and provide guidance based on your results and symptoms.

Why Molecular Testing is Important
Over the last decade, molecular testing has become more routine, due to the development of automated instrument systems that provide accurate results utilizing PCR and other molecular detection technologies. According to the CDC, 14 billion lab tests are ordered annually, and 70% of medical decisions depend on laboratory results. Because of that, molecular diagnostics have become a crucial component of life-saving patient care.
Download the Full Molecular Testing Infographic
---
Opinions expressed in this article are not necessarily those of bioMérieux, Inc.