bioMérieux Connection sat down with Jason M. Pogue, PharmD, BCPS-ID, an infectious disease clinical pharmacist, for a wide-ranging conversation about antimicrobial resistance and stewardship. Dr. Pogue is a Clinical Pharmacist of Infectious Diseases at Sinai-Grace Hospital – Detroit Medical Center and Clinical Assistant Professor of Medicine at Wayne State University School of Medicine. His research interests focus on epidemiology and treatment of multi-drug resistant Gram-negative organisms, and antimicrobial stewardship. He has co-authored over 60 peer reviewed articles, over 75 abstracts and multiple book chapters in these areas. This is the final part of this interview.  (Read Part 1, Part 2, Part 3, and Part 4.)
What are the keys to a successful antimicrobial stewardship program?
Dr. Pogue: Stewardship really is getting better information faster and acting on it in real-time. It is a process, not a destination. Good stewardship programs should constantly find ways to make improvements that optimize outcomes for patients.
To successfully implement a stewardship program, the team must have a sense of ownership. Stewardship cannot be another chore for the lab or the pharmacy to wedge into their busy days. It must be a priority and include the staff required to succeed.
How do you measure success and ensure that everyone is playing their roles effectively?
Dr. Pogue: The first requirement is a leadership commitment. Team leadership is the key to success and is an independent predictor for compliance with any sort of stewardship mandate. Accountability is also key. Is there someone on your Antibiotic Stewardship Program (ASP) team who is in charge of patient outcomes? That's one of our ID docs at my hospital. You also need someone with drug expertise. That's the pharmacist who's involved. It can be someone like me, an ID pharmacist, but it can also be a regular clinical pharmacist who is taking on the antimicrobial stewardship endeavor for their institution. And lastly, you must have the full support of your hospital management team. If they fail to see the value, it will gradually slip down the priority scale.
Can you tell us about the ASP at your hospital?
Dr. Pogue: I'm heavily involved with my program at the Detroit Medical Center (DMC).  As an infectious disease pharmacist, I spend my days doing stewardship, but I wonder what my lab manager thinks about stewardship, or the ICU physicians?  We need to collectively understand the impact of stewardship on patient outcomes. We need goals that we can shoot for. Some members may ask, "Why should I care about antimicrobial resistance?" or, "What's the association between antibiotic use and resistance?" Those are questions that people should feel free to ask and that the team lead can answer.
When done properly, a stewardship program addresses resistance both by a getting a patient on the right drug as quickly as possible and by limiting the unnecessary use of antibiotics. That requires rapid identification technologies as well as a process overhaul.  When everything is done well, the impact is dramatic. As clinicians, we've incorporated several rapid diagnostics platforms over the last couple years. These tools have revolutionized how we manage patients.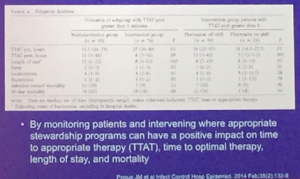 We know that the longer we wait to get a patient on the right drug or an active drug, the worse the outcome for that patient. This should be the first goal: improving patient outcomes. But there are many other benefits, including decreases in mortality, decreases in length of stay, and decreases in ICU length of stay.
Mass spectrometry, one of the technologies available for rapid diagnostics, offers a range of benefits. As you can see, there were dramatic reductions in mortality, length of stay, and length of ICU stay. Reductions in stays, particularly ICU stays, provide a strong cost justification for acquiring rapid microbiology technology and staffing a stewardship team.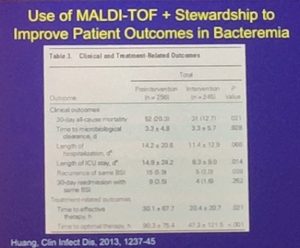 Those data come from a landmark study conducted at the University of Michigan, where they previously had no formal process for responding to blood cultures at their institution. They implemented MALDI-TOF (Matrix-Assisted Laser Desorption Time-of-Flight) mass spectrometry, but most importantly, they acted quickly on the output data.  Pharmacists or the ID pharmacy resident was paged in real time with any information that came from MALDI-TOF that could indicate appropriate therapy or eliminate an unnecessary therapy.
Rapid diagnostics shouldn't only be fast in process, but they should also reduce the time to optimal therapy. By optimal therapy, I mean both getting a patient on the drug that will help them as well as getting them off the stuff they don't need. The goal should be both the right antibiotic and reducing exposure to all antibiotics.
Good stewardship reduces antimicrobial resistance. The literature is definitive on that. But again, there are other benefits. A recent meta-analysis looked at the data from a group of stewardship studies and found that by reducing exposure to all antibiotics, the incidence of C. difficile infections also dropped by 50 percent!
We've come a long way in ten years when it comes to rapid organism identification.  The other key piece is more rapid susceptibility testing. We need to know as quickly as possible which antibiotics will work against our patient's infection. It's nice when one of our resistance determinants we've defined shows up in AST.  But what about when it doesn't?  It's hard to tell what to do in such a situation. That is an area where we need to make improvements. Microbes are evolving constantly, and we need to keep up with their adaptations. We need to individualize therapy precisely to the patient's infection, including individualizing the duration of therapy.
What do you see as the next big challenge for antimicrobial stewardship?
Dr. Pogue: Different patients handle different antibiotics in different ways, with wide variations. Even though we individualize dosing, we don't always know what a patient's reaction is going to be. The ability to know exactly what exposures and durations our patients require is the goal. Being able to titrate (continuously measure and adjust) doses would help significantly in managing patients' infections. Diagnostic manufacturers are in a great position to help us with this problem.
References:
Pogue, JM; Automated alerts coupled with antimicrobial stewardship intervention lead to decreases in length of stay in patients with gram-negative bacteremia; Infection Control and Hospital Epidemiology; 2014, 35(2) 132-138
Huang AM; Impact of rapid organism identification via matrix-assisted laser desorption/ionization time-of-flight combined with antimicrobial stewardship team intervention in adult patients with bacteremia and candidemia; Clin Infect Dis. 2013 Nov;57(9):1237-45.
---
Opinions expressed in this article are not necessarily those of bioMérieux, Inc.